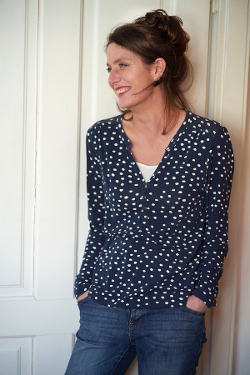 Director, Writer, Actress and Producer
Le gagnant du ROMY académie 2017 "Meilleur documentaire cinématographique"
"Candango" brasilian film award, Brasilia 2003 "Best actress"
FACTS
Born in Klagenfurt
university-entrance diploma
Studied acting
at the Mozarteum in Salzburg, Austria,
at the Max Reinhardt Institute (graduated 1989) and
at the École Supérieure d'Art Dramatique du Théatre National de Strasbourg / France 1990
Theater Studies at the University of Vienna /Dissertation on Eleonora Duse / Mag.art.
Actress
Television and film productions in Austria, Germany, and Brazil
Engagements at the Stadttheater Klagenfurt, the Theater in der Josefstadt, and the Staatstheater Stuttgart, among others
RR* Screenplay and Direction
"You and I" / "du und ich"
doc. 103 min. / A / 2011
A story of true love between the physically-challenged Hiltraud and her non-disabled partner Franz.
December 2011, Premiere of the first documentary at the "Gartenbaukino Wien" (Vienna).
RR* Screenplay, Direction and RR* Production
"Peter Turrini. RETURN TO MY POINT OF ORIGIN"
doc.  90 min. (and 100 min. lectures) / 2016
The "Tonhof" in Maria Saal is the "point of origin" of the documentary about and with Peter Turrini.
"The Magic of Children"
fiction / 71 min. /A / 2016
"A film developed together with children, their visions of the world – authentic, poetic and, at the same time, realistic.
The viewers travel to the lightfilled world of community, joy, yearnings and secrets. A fairy tale?"
"Interpretation of Reality – Georg Stefan Troller"
doc., 121 min / A / 2021
Website Actress  www.ruthrieser.net